When James Met Steve: Our Founder and Chairman James Drake meets with England Rugby icon Steve Thompson
---
This week, Steve Thompson's documentary, Head On: Rugby, Dementia and Me aired on BBC 2 and provided viewers with a harrowing insight into Steve's living with dementia, his quest to better understand the condition, and his vision to improve player welfare within rugby to ensure no other professional has to follow in his footsteps.
During filming for the documentary, Steve spoke to many experts in the medical field to learn more about dementia, the impact his rugby career has had on his brain, the various research being undertaken to the explore the link between concussion and head impacts in rugby and other sports, and the long-term health implications amongst current and former professional athletes. One of those studies that Steve discovered was the Drake Rugby Biomarker study.
Launched in 2015, the study's aim was to investigate potential biomarkers of concussion by collecting fluid samples like blood, urine and saliva from current elite rugby players, and also assessing cognition and brain structure through advanced neuroimaging scans. Results from the neuroimaging wing of the study published in July 2021 suggested that participation in elite rugby may be associated with changes in brain structure, with 23% of players showing abnormal changes to their white matter – the neural connections – or blood vessels in the brain. 50% of players who took part in a follow-up scan also exhibited an unexpected reduction in brain volume. Although this study involved a relatively small participant group and therefore requires further research, the results raised concerns about brain health in elite rugby and also contributed to the creation of Advanced Brain Health Clinics using advanced neuroimaging techniques for retired elite rugby players.
Off the back of such research, Steve wanted to meet the 'man behind the study', our founder and Chairman, James Drake, who launched The Drake Foundation in 2014 with a mission to understand and improve the health and welfare of people who sustain head impacts in sport and wider society.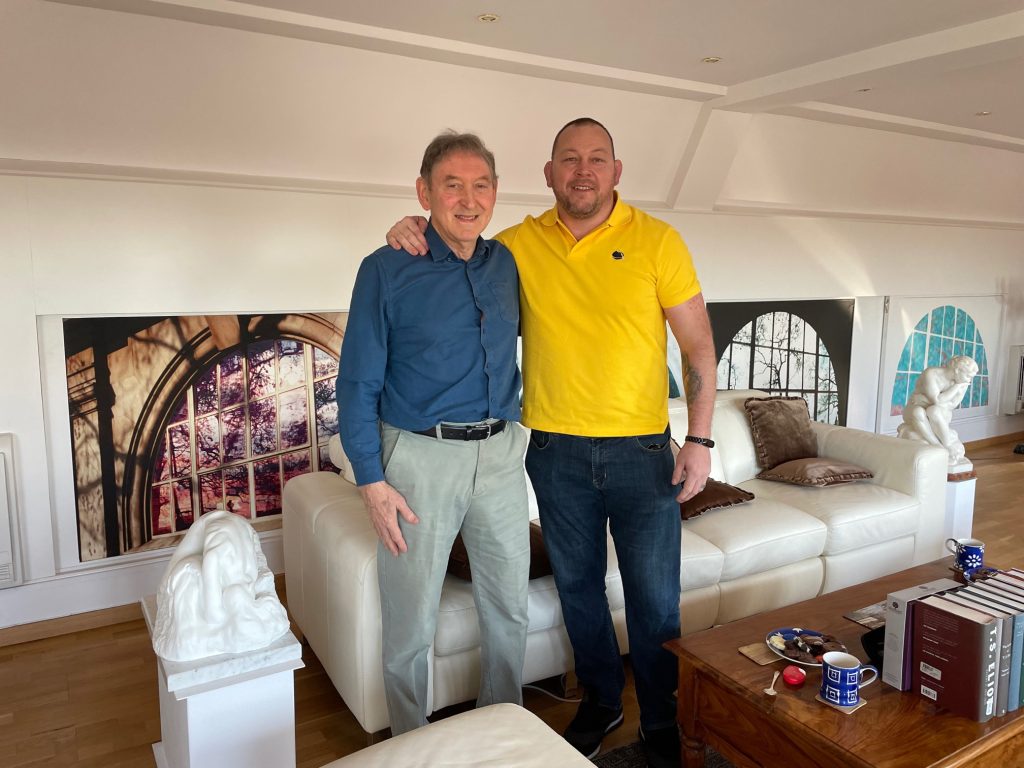 During their meeting, the pair discussed current player welfare protocols within rugby and were in agreement that improvements were needed to enhance player safety. Since 2014, our mission has remained unchanged, and we've seen a significant growth in momentum across sport and beyond not just in calls for improved safety with the sport, but also in the amount of research ongoing to better understand the impact of professional sport participation on long-term brain health. There are now a wealth of studies taking place in the UK and beyond investigating the short- and long-term consequences of head impacts, including The Drake Foundation's eight funded studies across rugby, football and – more recently – populations affected by domestic abuse.
During their talk, James and Steve both concluded that the current backdrop of research findings, plus the recent series of announcements from former rugby professionals disclosing brain disease diagnoses, many of whom in their forties, wasn't just an alarm; it is an alert that is continuously sounding and demands significant, immediate action.
Whilst the pair were quick to appreciate and praise the amount of progress across research and sport that has taken place thus far, further action is urgently needed to enhance player safety across all levels of rugby to minimise players' exposure to head impacts in training and matches.
We are very appreciative of Steve taking the time to meet with James to discuss the work of The Drake Foundation, wider research in the field, and the player safety issues that need tackling within rugby. We wish him all our very best during his ongoing battle with dementia and we look forward to meeting with him again in future.
To watch Steve's documentary, Head On: Rugby, Dementia and me, visit BBC iPlayer.
Find out more about The Drake Foundation's work below: