The Drake IPV Symposium: a call for action on domestic violence
---
The inaugural Drake IPV Symposium was held at Woburn House on Tuesday 29th November, bringing together leading minds in tackling intimate partner violence and its long-term effects on brain health.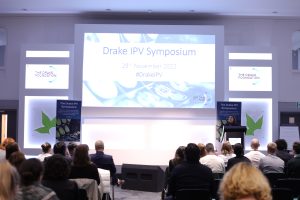 A startling 21% of the UK adult population have been subject to domestic abuse, with one in five of all homicides where the victim is aged 16 or older attributable to intimate partner violence (IPV). In most cases, women are the victims and the violence experienced often includes traumatic brain injury (TBI). Despite this, we know very little about lifelong brain health in people suffering IPV.
As a first step to addressing this knowledge gap, The Drake Foundation recently brought together leading academics, policymakers and charities working in brain injury and IPV to discuss latest research and identify immediate priorities for action.
The Drake IPV Symposium was co-hosted by The Drake Foundation and Professor Willie Stewart of the University of Glasgow (UK), one of the world's foremost experts in TBI and leader of the Glasgow Brain Injury Research Group.
"Meetings such as this one are critical for advancing care for women who are survivors of intimate partner and domestic violence.  Brain injuries, via both blunt force trauma and strangulation-related asphyxiation, are underappreciated and therefore rarely treated in these women.  Bringing together relevant stakeholders such as survivors, researchers and policy makers is critical to effect change that is required for optimal health and interventions for these women." – Dr Eve Valera, Harvard Medical School, USA
Intended to bridge the gap between research, practice and policy and to equip policymakers with an insight into the potential long-term brain health impacts of IPV, the symposium provided a forum for discussion among delegates. This initiative builds on The Drake Foundation's commitment to advance understanding in this priority area and follows the launch in 2021 of the Drake IPV Study investigating the long-term effects of IPV on brain health.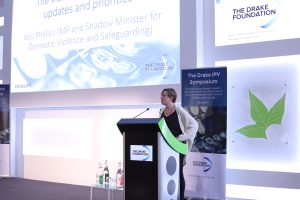 Featuring a series of research updates from some of the world's leading academics, including Professor Willie Stewart, Dr Eve Valera (Harvard Medical School, USA) and Dr Carrie Esopenko (Icahn School of Medicine at Mount Sinai, USA), the meeting also heard powerful testimony from broadcaster and writer Liz Fraser, speaking about her personal experience of IPV.
The meeting ended with an address from Jess Phillips MP, Shadow Minister for Domestic Violence and Safeguarding, and highlighted the need for action and the stark contrast between progress in awareness and understanding of brain injuries and lifelong brain health in sport compared to the relative neglect these issues have received in IPV.
"The economic cost to society from unacknowledged and untreated brain injuries in these women is likely staggering." – Dr Eve Valera, Harvard Medical School, USA
The Drake Foundation is proud to have hosted such a collaborative and inclusive event and will continue to work with its partners across the IPV space to fund pioneering research such as the Drake IPV Study and opportunities to enhance cross-sector collaboration such as the Drake IPV Symposium. As this this is a significant global public health concern, it takes a strong collaborative community to address: here we start this process.
James Drake, Founder & Chairman of The Drake Foundation, said: "The Drake Foundation is incredibly proud to have co-hosted our first IPV Symposium alongside Professor Willie Stewart, particularly during the UN's campaign to End Violence against Women & Girls and on the day that the Queen Consort herself shone a spotlight on this critical societal issue.  
"It's crucial that society continues to shine a light on the long-lasting emotional and physiological damage caused by intimate partner violence and that's why we wanted to bring together some of the leading minds in research, practice and policymaking in this area.
"As a Foundation we're committed to better understanding and improving the welfare of people impacted by head injuries across society. We're beginning to see the positive impact of our work when it comes to brain injury in sport and we're determined to have a similar impact in IPV."
For more information about The Drake Foundation and its work, please visit www.drakefoundation.org
To view the full Drake IPV Symposium programme, click here.
For all media enquiries please contact:
The PHA Group
[email protected]