Rugby concussions
Concussion is one of the most common injuries sustained by professional rugby union players. Since the sport of rugby union turned professional in 1995, participation in the UK has risen to 2.5 million people. As participation has increased, so too has the concussion incidence rate.
The 2016–17 Professional Rugby Injury Surveillance Project (PRISP) reported concussion to be the most commonly reported rugby match injury in English Premiership Clubs and the England Senior team, contributing to 22% of all match injuries. During the 2016–17 season a total of 169 match concussions were reported.
A 2018 Cardiff Metropolitan University study found that, on average, professional rugby union players are more likely than not to sustain concussion after 25 matches.
Medical figures released by the Rugby Football Union (RFU) in 2020 revealed that 20% of professional rugby union players in England suffered concussion during the 2018–19 season, an increase from 16% recorded during the 2017–18 season.
With head injury rates remaining high and research in this area growing, there has been growing concern in surrounding the long-term impact of a professional rugby career on brain health. This is an issue that has gained even wider attention following the diagnosis of a number of former professionals with neurodegenerative brain diseases, some of whom are only in their early forties, with the diagnoses believed to be linked to their exposure to head impacts as professional rugby players.
Research carried out by The Drake Foundation in 2021 found that 63% of amateur rugby players have opted to either limit the amount they play, or have stopped playing the sport completely, owing to concerns around brain health. Amongst parents, 66% called for scrums to be banned in youth rugby, with 65% wanting to see tackling prohibited from Under-14 rugby. Over half of parents shared concerns that rugby could have a long-term impact on their child's brain health.
It is important to note that this isn't all about concussion: increasing evidence is pointing towards exposure to head impacts as being a risk factor for brain health effects – some of these impacts may result in a concussion, but many of them – the sub-concussive impacts – will not. Recent research funded by The Drake Foundation described changes in brain structure of professional rugby players, specifically to white matter and blood vessels, as well as a reduction in brain volume, which were not specific to recent concussion incidences. Within football, too, the FIELD study observed that former professional football players had a three and a half times higher rate of death due to neurodegenerative disease than the general population, which – particularly given the relatively low rate of concussions in football – is believed to likely be due to repeated subconcussive head impacts sustained when heading the ball.
Given the research evidence to date, as well as cases of rugby players being diagnosed with neurodegenerative brain diseases as young as their 40s (believed to be linked to head impacts in their rugby career), The Drake Foundation would like to see precautionary action taken to reduce players' exposure to head impacts across matches and training at all levels of the game. This could involve mandatory limits on contact training time, a reduction in the number of substitutes in the game, and other protocols to reduce players' cumulative intensity of impacts.
The Drake Foundation's initial steps into funding research started with rugby in 2015, with a project investigating potential biomarkers of rugby concussions kicking off with Saracens Rugby Club. Since then, the study has been extended to a number of Premiership and Championship teams across London. Initial findings from the Drake Rugby Biomarker Study, announced in July 2021, can be viewed below.
Our commitment to researching rugby head injuries and their long-term effects was extended in 2016 through the awarding of funding to the Brain health & healthy ageing in retired elite rugby players (BRAIN) Study. This cross-sectional study is assessing brain health in 150 former players aged 50+ and correlating findings with self-reported concussion history. Read the first paper from the BRAIN study.
Our Studies
The Drake Foundation has funded several studies that explore the link between concussion and head impacts in rugby and the long-term health implications amongst current and former professional rugby players, including:
The BRAIN Study
The Drake Rugby Biomarker Study
Alongside those studies, in 2022 The Drake Foundation announced former England captain and World Cup winner, Lewis Moody, as our first Rugby Union Ambassador. Moody, one of England rugby's most decorated players, is a vocal advocate for improvement to existing protocols across all levels of the game, with the goal of ensuring rugby can be enjoyed safely from grassroots through to elite levels.
With the many benefits of being a former elite sportsperson, there may also be potential health risks. In June 2017, The Drake Foundation awarded funding to the BRAIN Study to investigate the association between concussions sustained during an elite rugby playing career and subsequent measures of physical and cognitive capabilities, neurodegenerative disease risk and quality of life.
The multi-institutional research team are analysing biological, physical and neurological data in approximately 150 retired rugby players now aged 50+ years, to evaluate the correlation between concussion and health risks in players who played elite rugby in the amateur (pre-1995) era.
Findings from the BRAIN study were published in October 2021. The study found no overall group association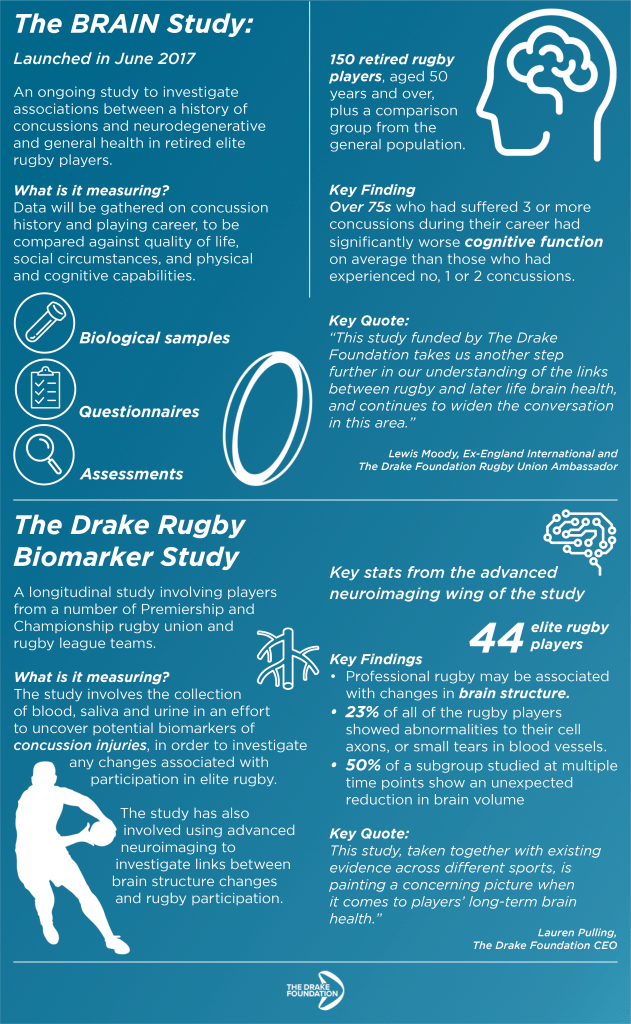 between concussion history and cognitive function but did find that over 75s who had suffered three or more rugby-related concussions during their career had significantly worse cognitive function on average than those who had experienced no, one or two concussions. Although there was a difference in cognitive function linked to concussions in those over aged 75, these findings are broadly reassuring for players from the pre-professional era. However, we see more collisions in today's games than pre-1995, as well as bigger, stronger players, so further research is needed to establish the risk for players from the professional era.
This study was originally launched at Saracens Rugby Club in 2015, before expanding to incorporate further Premiership and Championship rugby union and rugby league teams. The aim of the Drake Rugby Biomarker Study was to investigate potential biomarkers of concussion by collecting fluid samples like blood, urine and saliva, and also assessing cognition and brain structure.
One part of the study involved using advanced neuroimaging techniques to examine brain structure. The first neuroimaging results were published in July 2021 and showed that around a quarter of elite adult rugby players had changes in their brain structure, specifically in the neuronal wiring (white matter) and blood vessels of the brain. The study also revealed that 50% of a subgroup showed an unexpected reduction.
To further develop our understanding of the long-term effects of these structural brain changes, the RFU, in partnership with Premiership Rugby and independent experts, have launched a specialist Advanced Brain Health Clinic for the assessment and management of retired elite male and female rugby players between the ages of 30–55 to individually assess their brain health. The programme will include advanced imaging techniques such as those used in the Drake Rugby Biomarker Study, neurocognitive assessment and biomarker measurements to review the risk, causes, assessment and management of brain problems for those who have participated in elite rugby. The Health Clinic opened in November 2021.
Governing Bodies Health Protocol
The Rugby Football Union (RFU)
The Rugby Football Union (RFU) in England has been a proactive researcher of concussion prevention and diagnosis, with projects including biomarker discovery and tackle analysis. The RFU regularly reviews and updates their law book in light of evidence gained through scientific research, for example 2018 saw a law change on tackle height in the Championship Cup.
In 2021, the RFU launched extended guidelines for its concussion protocol, The England Rugby HEADCASE Concussion Guidelines. The guidelines shared information on recognising, managing and reducing cases of concussion within the game, underpinned by the motto if in doubt, sit them out. The HEADCASE guidelines were interlinked with World Rugby's existing Return to Play guidelines.
World Rugby
Globally, the international governing body World Rugby has been a driver of evidence-based concussion assessment, with its continuous review and development of the off-field Head Injury Assessment (HIA) protocol, a three-stage process to help elite teams identify, diagnose and manage head impacts that have the potential to cause concussion.
World Rugby's Graduated Return to Play protocol is a six-stage process that teams and players diagnosed with concussion must follow before returning to full-contact training and matches. The average time for a player to complete the six stages of the protocol is 22 days, based on a study of English Premiership players in 2018–19.
In July 2021, World Rugby announced a policy change, the Independent Concussion Consultants (ICC), to "provide further objective care of elite players returning to play following a confirmed concussion".
Other Studies
Beyond our research, there are a number of other studies that are investigating factors surrounding head injury in rugby. These include an Otago University study in partnership with World Rugby and New Zealand Rugby, which uses mouthguard sensors to monitor head impacts in community and age-grade rugby. Other studies include a recent University of South Wales study into rugby, brain blood flow and cognition; and a Durham University study that found that former professional rugby union players who suffered multiple concussions throughout their career were more likely to experience poor mental health later in life.
Where can I find more information?
You can read more about our concussion in rugby studies, as well as our other projects, on our website by clicking here.
Follow The Drake Foundation on Twitter for the latest information on all of our studies, plus updates on concussion in rugby.