Rugby concussions
The 2016–17 Professional Rugby Injury Surveillance Project (PRISP) reported concussion to be the most commonly reported rugby match injury in English Premiership Clubs and the England Senior team, contributing to 22% of all match injuries. During the 2016–17 season a total of 169 match concussions were reported.
The Rugby Football Union (RFU)
In addition to publishing these statistics, the Rugby Football Union (RFU) in England has been a proactive researcher of concussion prevention and diagnosis, with projects including biomarker discovery and tackle analysis. The RFU regularly reviews and updates their law book in light of evidence gained through scientific research, for example 2018 saw a law change on tackle height in the Championship Cup. Globally, the international governing body World Rugby has been a driver of evidence-based concussion assessment, with its continuous review and development of the off-field Head Injury Assessment (HIA) protocol.
Rugby was where everything started for The Drake Foundation, with our first research project investigating potential biomarkers of rugby concussions kicking off with Saracens Rugby Club in 2015. Since then, the study has been extended to a number of Premiership and Championship teams across London. Our commitment to researching rugby head injuries and their long-term effects was extended in 2016 through the Brain health & healthy ageing in retired elite rugby players (BRAIN) Study. This cross-sectional study assesses brain health in 150 former players aged 50+ and hopes to correlate findings with self-reported concussion history.
The BRAIN study
With the many benefits of being a former elite sportsperson, there may also be potential health risks. In June 2017, The Drake Foundation awarded funding to an ongoing study – BRAIN – to investigate the association between concussions sustained during an elite rugby playing career and subsequent measures of physical and cognitive capabilities, neurodegenerative disease and quality of life.
The multi-institutional research team are analysing biological, physical and neurological data in approximately 150 retired rugby players aged 50+ years, to evaluate the correlation between concussion and health risks.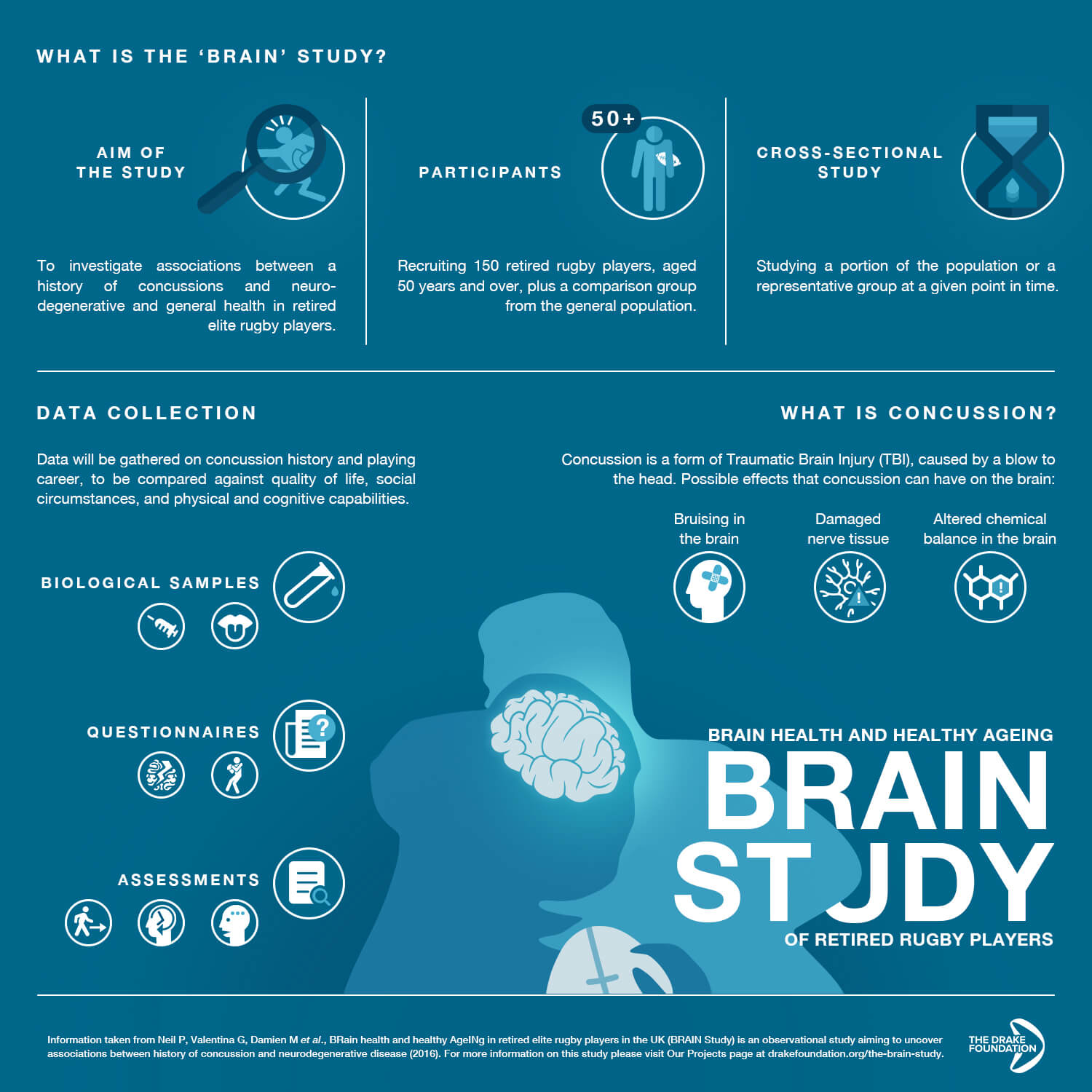 Learn more about The Drake Foundation's concussion in rugby biomarker study.